I think this will be the year the NFL finally collapses. They have been alienating their core fan base for over a decade now with pandering to leftists & women with dressing their players up in pink in October & telling men that they are nothing but women abusers. The Colin Kaepernick incident didn't help the NFL either.
Now, not only is a huge chunk of their core fan base boycotting the NFL & the Super Bowl (for reasons I'll discuss later), the leftists that they have been pandering to are boycotting the Super Bowl as well. They are boycotting & protesting (because that's all these idiots seem to do anymore because they have nothing better to do) the Super Bowl because Tom Brady is friends with President Trump
Yes, they are not watching because of a friendship between the starting QB of the Patriots & the President of The United States. I bet if Michael Vick (animal abuser) or Adrian Peterson (child abuser) was in the Super Bowl these idiots wouldn't care. But since it remotely involves Trump these leftists lose their shit & act like monkeys howling & flinging their own shit. Hope they watch their step while protesting in Houston as Texas is a 'Stand Your Ground' state & guys from Texas don't fuck around (unless they are the limp-wrist faggot beta males from Austin). Things could become more interesting outside the stadium than inside.
While a friendship has the leftists boycotting, turning the Super Bowl into a political event has led to millions of football fans saying they will not watch it this year as well.
Lady Gaga said during her halftime performance she will sing about
inclusion & equality
. Just liberal & feminist propaganda that nobody wants to listen to when they are trying to watch a fucking football game for a little bit of entertainment. Supposedly O'reilly is interviewing Trump the same time the halftime show is taking place. I have a feeling that will receive more viewers than the political shit show featuring an overpaid tramp shaking her ass crying about how her candidate lost.
Audi & Budweiser are both showing leftists propaganda commercials.
Audi still perpetuating the false gender wage gap that has been debunked...
They even debunk it themselves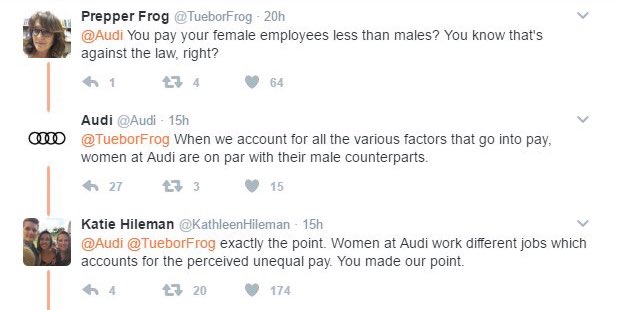 Budweiser is attacking Trump's executive order to block refugees & immigration from 7 countries deemed a threat to the US by Obama's administration with this commercial...
This just might be the lowest rated Super Bowl of all time. I hope this is final nail in the coffin for the NFL. You treat your real fans like shit calling them abusers forcing them to listen to leftist propaganda & this is what you get. I hope the NFL goes bankrupt.